his life
Dick Bruna was born in Utrecht on 23 August 1927 as Hendrik Magdalenus Bruna, the son of Albert Willem Bruna and Johanna Clara Charlotte Erdbrink. His brother Frederik Hendrik Bruna was born in 1931. Dick's father was a publisher for A.W. Bruna & Zoon, the company founded by his great-grandfather in 1868. Although it was decided that Dick would also join the family company, he managed to convince his father that he was not cut out to be a publisher. He subsequently joined A.W. Bruna & Zoon as a designer in 1951. Two years later, he married Irene de Jongh and the couple went on to have three children: Sierk (1954), Marc (1958) and Madelon (1961). (The first of Dick Bruna's six grandchildren was born in 1992.) In 1968, Dick stopped designing book covers and withdrew entirely from his father's publishing company. His brother Frits worked for the company for many years.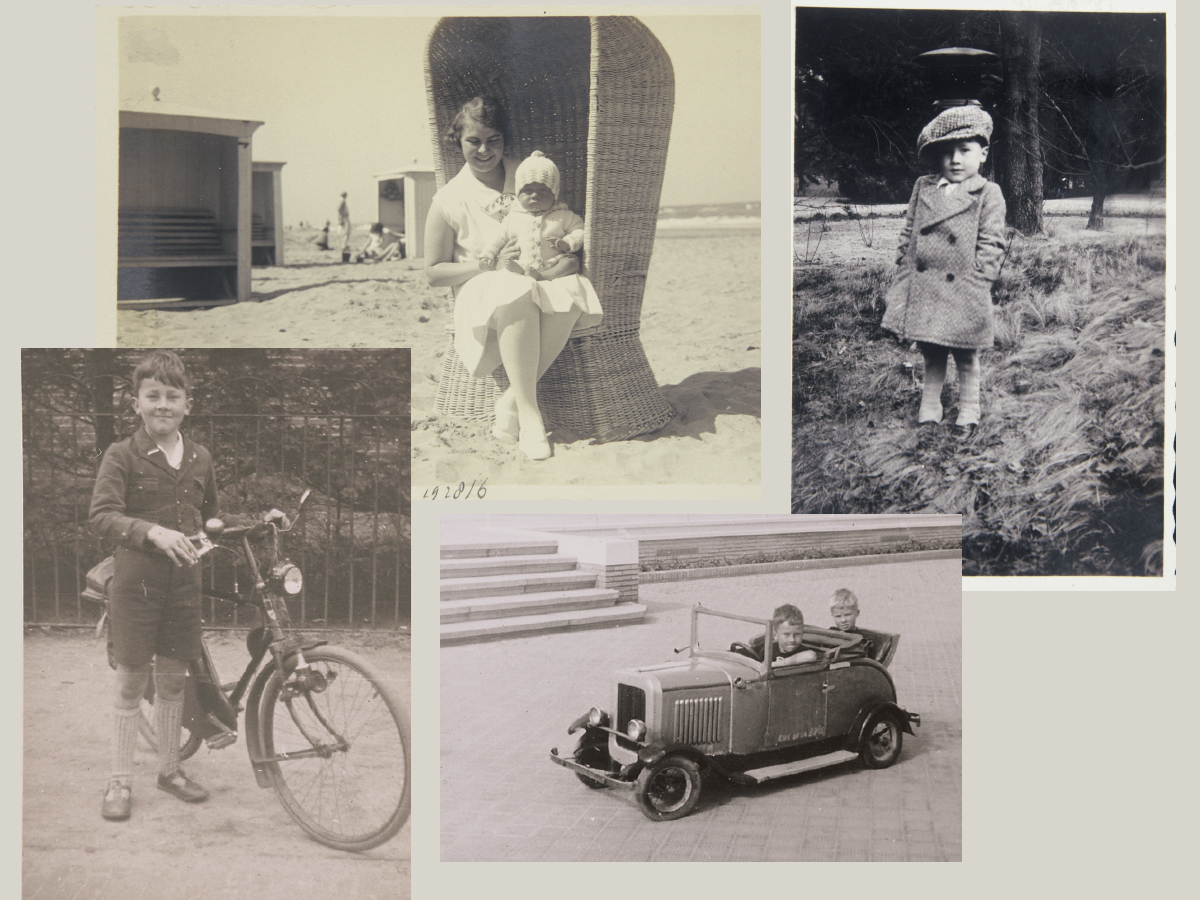 how it began
In 1943, during the Second World War, the Bruna family sought refuge in a house near the Loosdrechtse Plassen, a lake district in the heart of the Netherlands. Unable to go to school, Dick Bruna had to find a way to occupy himself all day long. It was here that he first began drawing and painting his natural surroundings. Sometimes the designers and illustrators who worked for his father's publishing company would visit the Bruna residence. Some of them, including Rein van Looy, seized the opportunity to give the young artist a drawing lesson. After the war, Dick designed his first book cover for the book "Anne-Marie" by Arnold Clerx. He did not complete his final year at secondary school. Instead, he spent a year working in the Broese bookshop in Utrecht. His father subsequently arranged work placements for Dick at W.H. Smith booksellers in London and at the Plon publishing company in Paris, so that he could gain experience as a publisher. However, it became increasingly clear to Dick Bruna that he was not cut out to be a publisher. In Paris, he discovered artists such as Matisse and Léger, whose work inspired him to spend more and more time drawing. Having returned to the Netherlands in 1948, he enrolled at the Rijksakademie for fine art in Amsterdam, but did not feel at home and soon dropped out. Having taught himself what he needed to know, Dick joined A.W. Bruna & Zoon as a designer in 1951 and went on to create around 2,000 book covers and posters, mainly for the Black Bear pocket editions. He also designed posters and logos for clients such as the City of Utrecht, Het Groene Kruis (a maternity care organisation), and Veilig Verkeer Nederland (a road safety organisation). He began creating picture books in 1953, eventually publishing more than 120 in total. After he stopped designing book covers, Dick continued to produce new books and did a great deal of work for worthy causes such as UNICEF, the Aids Fund and the Netherlands Foundation for Children's Welfare Stamps. Until his retirement in the summer of 2011, Dick Bruna continued to cycle to work in his studio every day. He died in 2017 at the age of 89.
"Take children seriously. Be as honest with them as they are with you."
writer, illustrator, designer
Although Dick Bruna originally wanted to become a writer, he is known primarily for his drawings, illustrations and designs. When creating his books, he first envisaged the story in pictures, before writing the text.
strength in simplicity
How did Dick Bruna's work come to be so famous? Is it the bright colours? (There are other illustrators who use bright colours.) Or the convenient size of his books? (There are plenty of books designed for tiny hands.) Or is it his style of drawing, in which he leaves out everything that is superfluous and ends up with a very simple picture? (Eric Carle and many others have done this, too.) Dick Bruna's success may be attributed to all these things: he produced small books full of simple illustrations in bright colours. But the most important thing is that the pictures themselves tell the story. His drawings are much like pictograms. When he draws a house, children all over the world recognise it as a house, when he draws an apple, they recognise it as an apple, and when he draws a dog, they recognise it as a dog. You could say that Dick Bruna's drawings speak their own language – the universal language of pictures. By making small changes to these pictograms, he created an entirely new picture. By drawing Miffy with a single tear, for instance, everyone can see that Miffy is really sad. Similarly, slight adjustments of the mouth and eyes of his characters convince us that they are happy or sad or curious. So the real secret of Dick Bruna's work is that he does more with less.
"I have a small talent and I have to work very hard to do something with it."
utrecht
Dick Bruna has always had a special bond with Utrecht, the city of his birth, where he worked and lived for most of his life. He still lives there, in fact, and his studio was just a stone's throw from the city's famous Dom Cathedral. Over the years, Dick designed various posters and logos for the city, and in 1987 he was presented with the Lapel Pin of the City of Utrecht for "raising the city to new heights with his illustrious imagination". There is also a little Miffy square in Utrecht, with a bronze statue of Miffy created by Dick's son Marc. In 2006, the Centraal Museum in Utrecht opened the Dick Bruna House, which was recently renovated, reopening as the Miffy Museum in 2016. For his 70th birthday, Dick was presented with a collection of drawings by artists and illustrators from Utrecht, and the city marked his 80th birthday by decorating the streets of Utrecht with his colourful illustrations. In 2007, Dick Bruna was presented with a special Golden Lapel Pin of the city of Utrecht.
simply dick bruna
Before his retirement, Dick Bruna cycled to work in his studio every day. It wasn't uncommon to see him cycling alongside the city's canals. Even after he stopped working, he enjoyed cycling through his beloved Utrecht. He didn't look like a famous artist, but more like Miffy's grandfather: a bespectacled elderly gentleman with a friendly twinkle in his eye and a lovely white moustache. He was simply Dick Bruna.
"For me happiness is cycling to my studio very early in the morning."